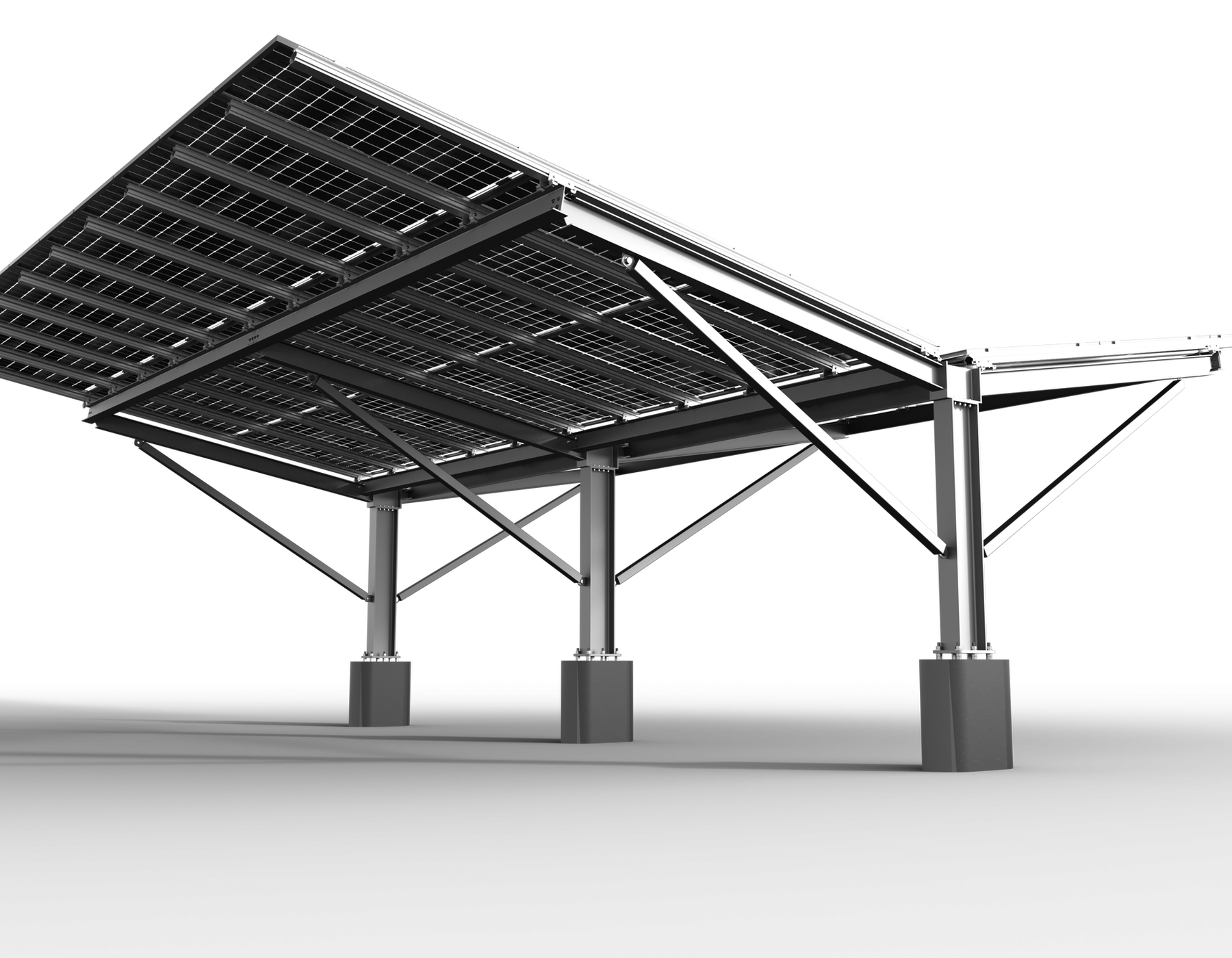 Key specifications
Material
Aluminum rails and components, stainless steel bolts & nuts. Vertical structure typically in galvanized Steel H-Beams.
Max Snow Loads
Can be designed for any snow loads (up to over 100 PSF)
Max Wind Loads
Can be designed for any wind loads (up to 180MPH)
Tilt Angle
5 to 10 typical (any tilt virtually possible)
PV Panel Orientation
Landscape on rails (supported on the long side of the panels, portrait supported on the short side of the panels possible)
Module
Any framed PV, any frameless PV
Water-Managed
Not sealed. Gaps between panels (lower cost).
Foundation Type
Any (concrete footings typical, can be designed with helical or driven piles of any shape)
PV Panel height from ground
Customizable, typically 12-14.5 feet (3.6-4.4m). Over 14.5FT (4.4m) possible.
Grounding
Bonding jumpers available, UL 2703 listing in process
Typical Bifacial Gains Observed
5-15% (N-Type, on black asphalt. Must be optimized per project, not a guarantee.)
No On-Site Welding
All Opsun Carports are assembled with bolts and nuts. No welding and no cuts will be necessary on site.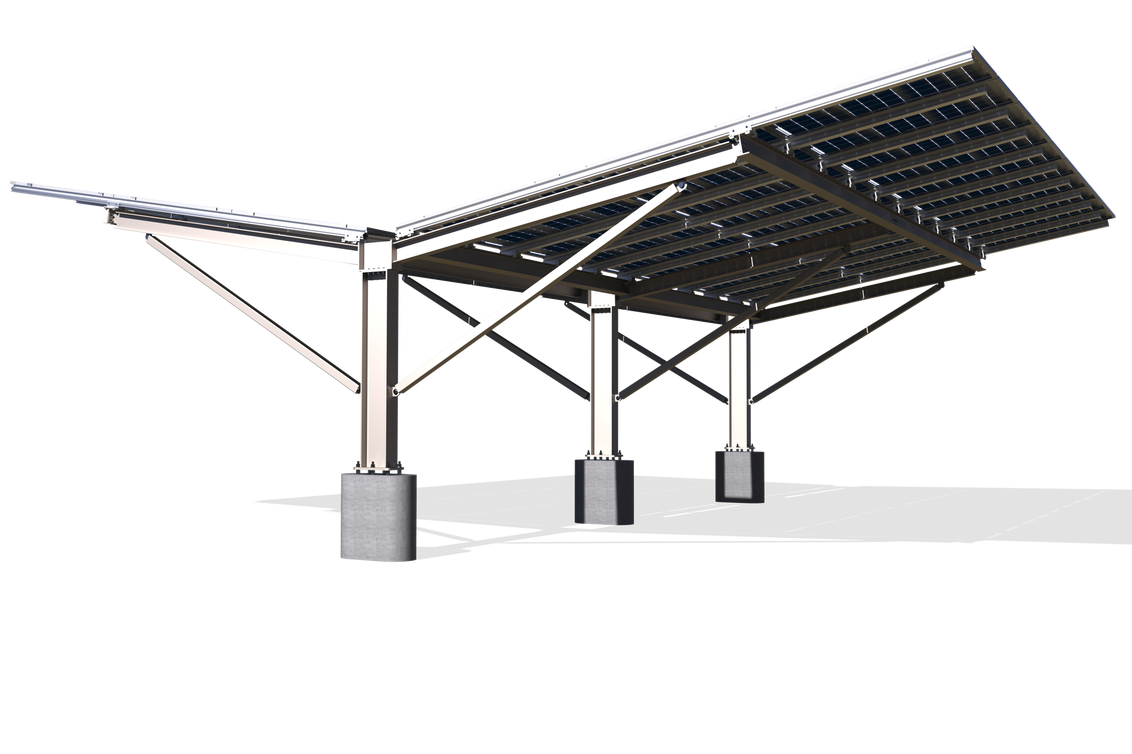 Low-cost, Elegant Design
No rails under the panels which are fully visible from underneath. Conduits can be screwed against the aluminum extrusions. Options to hide all wires and junction boxes. All parts can be powder-coated for maximum visual appeal. Will look neat from underneath, but not possible to seal.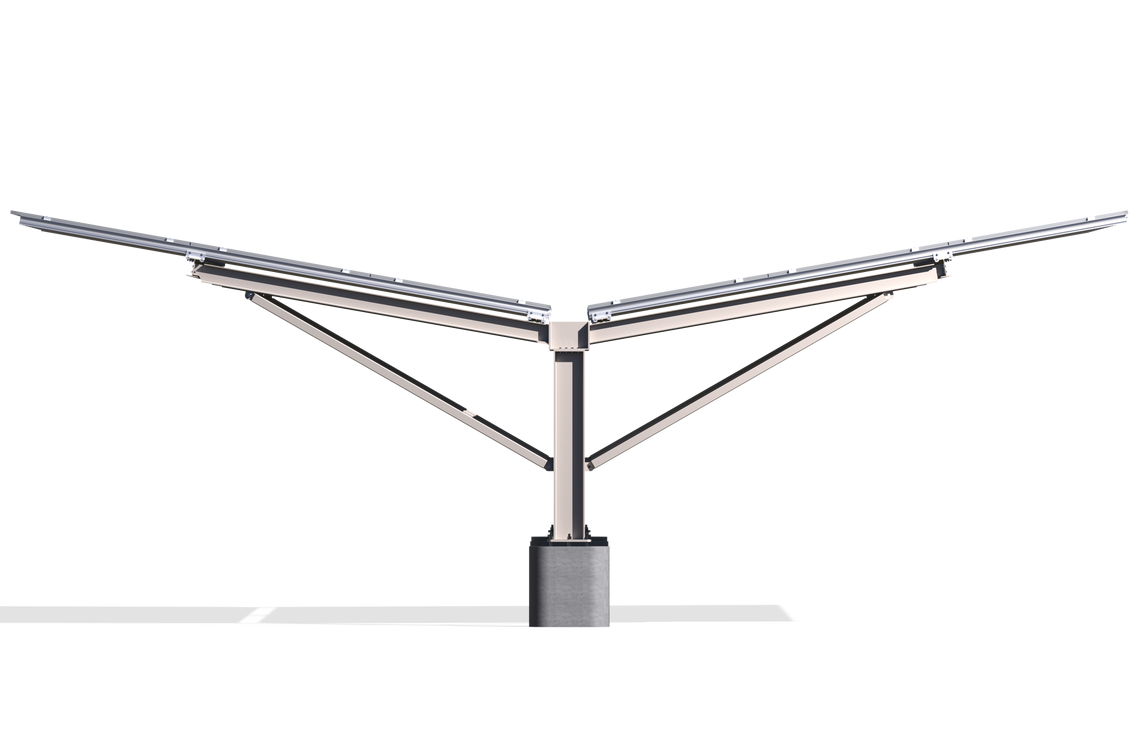 Solid Design
Our engineers will create a steal structure based on your esthetical requirements and your budget. We typically avoid using z-purlins and c-chanels that will be less visually appealing, and less solid on the long run. Instead, solid and elegant H-Beams are provided for maximum durability.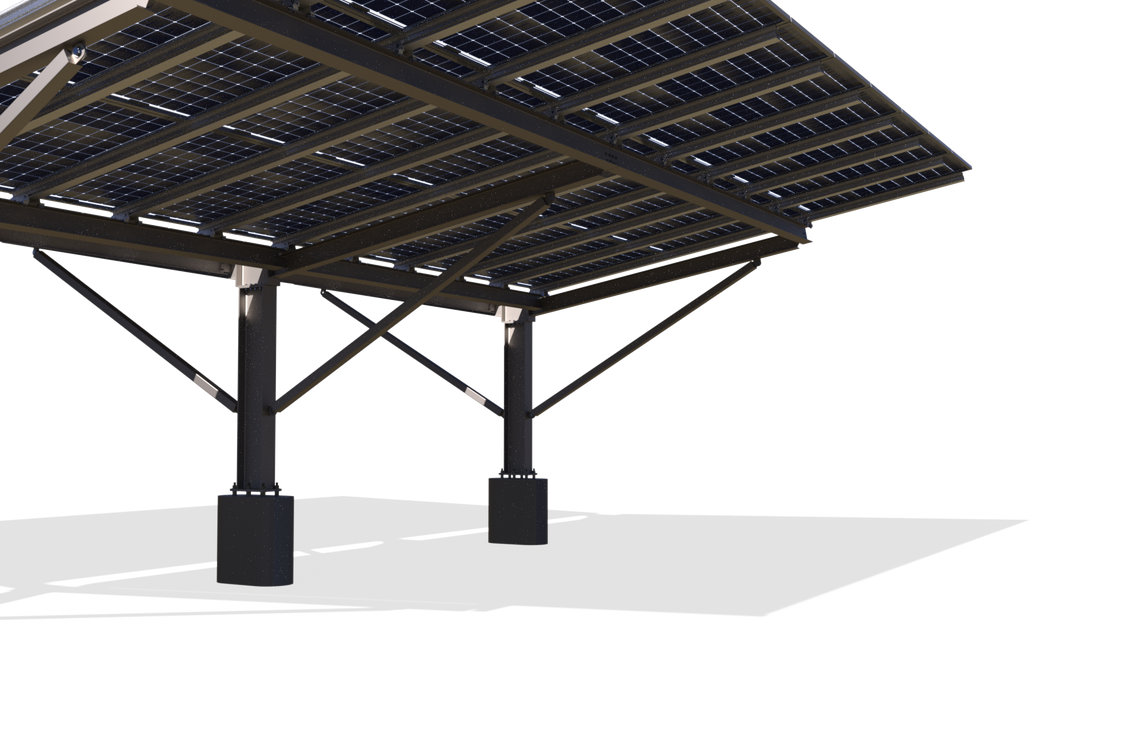 Complete turn-key engineering services
Our team of experts can design carport structures for any environment, on any kind of foundation. Our experts will support your team by providing recommendations on tilt, orientation and layout. We can help design foundations on any soil type (soil study required, by others).
Advantages
Aluminum PV Rails Design
Rail-based design with 6000 series aluminum and 306 stainless steel bolts and nuts guarantee maximum durability of the structure for decades. Typical base structure is made of solid galvanized steel (ASTM A123) H-Beams, for maximum strength.
Several Designs available
Our engineers can create carports with several tilt orientation : cantilever (Half-"A"-Shape, Half-"Y"-Shape), Y-Shape (dual tilt up) or T-Shape (one side tilted up and the other side tilted down)
Better Panel Protection
Strong rails supporting PVs on their full length help prevent torsion and movement that leads to accelerated degradation of PV panels
Ideal look for bifacial Panels
Opsun's Bifacial Carports take advantage of bifacial panels' transparency to increase aesthetics from underneath.
UL 2703
Grounding system conforming to UL 2703, certification in process.
Highest Standard for Engineering & Support
Our engineers use only the safest methods of calculation, to assure maximum solidity and durability of the structures. We have proprietary, recent wind tunnel tests with Western University, and we design using the latest Building Codes (ASCE-7-16, NBCC 2016, IBC 2018), as well as SEAOC PV2. Minimal deflection allowed on rails, and finite element analysis done with high-end 3D engineering software. Each component and vertical structure calculated individually. We find solutions to each unique challenge, and we react quickly if unforeseen events happen during construction (such as terrain obstructions and last minute changes).
Project-Specific Building Permit Plans & P.Eng stamp with each project
Custom, project-specific building permit plans, stamped by a local P. Eng., are provided for each job, describing step-by-step where each component goes, on the exact project site, with markups, details and explanations custom to each project's specific difficulties.
Documents & Specifications
OPSUN Total Engineeringtm Support
Opsun specilizes in solar PV racking engineering for any type of solar project, discover below our unique process to assure the best quality racking and engineering is supplied for all your solar PV, and bifacial PV projects.