19 January 2021
Who said solar carports had to look bad in order to be price competitive?
Opsun digs deeper into the solar racking world by supporting EPCs and Solar Developers with fully optimized bifacial carport structures, customized for your project's visual and engineering requirements. The SunParkTM family of products comes in a variety of shapes and forms: Y-shape, T-shape, reverse L-shape as well as SuperStructure ("long spans"). Opsun's innovative carport system leaves the back side of solar PV panels completely open, for maximum bifacial performance. Elegant in design, Opsun's carport structures are optimized to minimize the quantity of columns and foundations, leading to fast installation time and price competitive projects.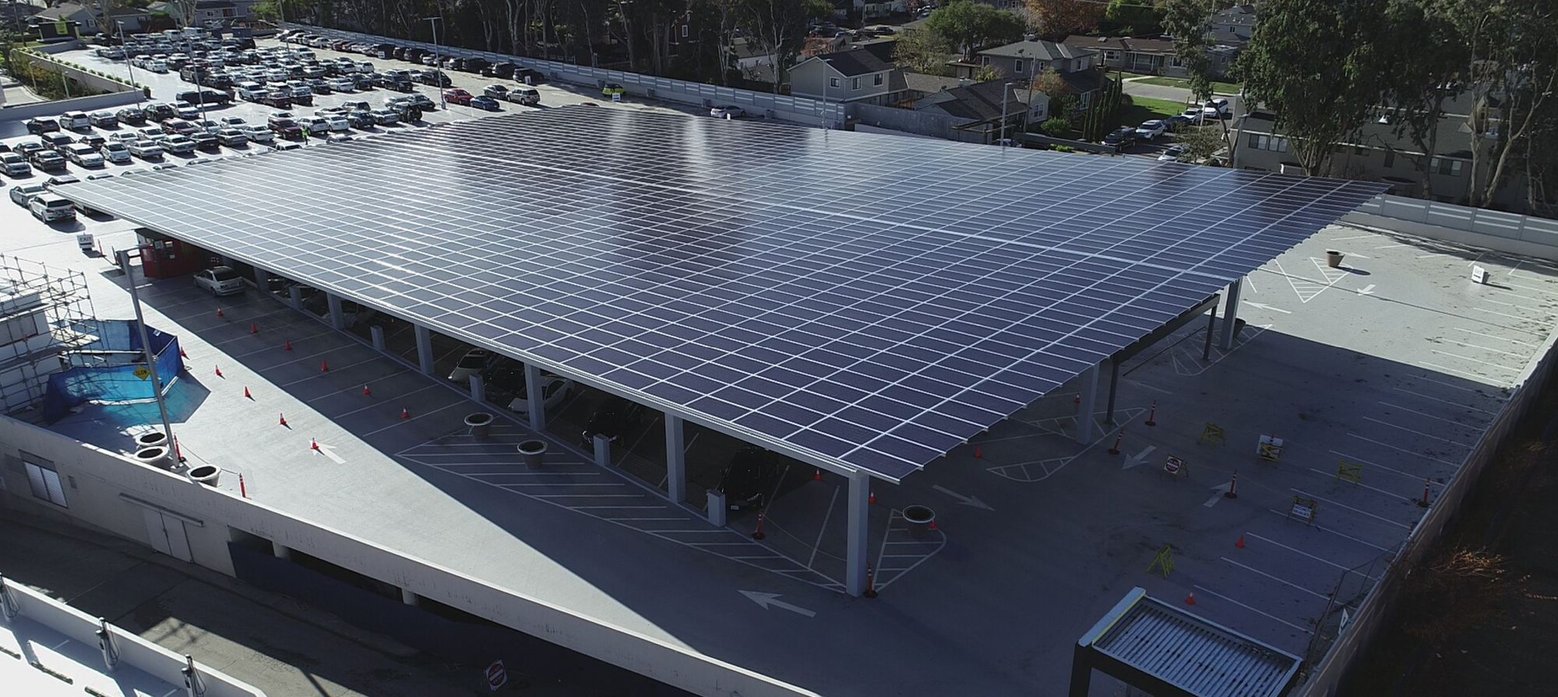 ---
Get more energy taking advantage of the bifacial gains
By aligning all the support beams and rails between PV panels, the Opsun SunParkTM bifacial carports avoid obstruction of the backside, maximizing the potential of bifacial panels. The high elevation of the carport structures (typical 14.5FT) allows a lot of light to bounce on surrounding objects and reach the backside of the PV panel. Typical bifacial carport systems designed by Opsun should reach 10% to 15% bifacial gain, resulting in extra profits for the system owner.
Since the underside of the panels is unobstructed, using bifacial panels will lead to solar cells being visible from under the canopy, so users of the carport structures can see and feel they are under solar panels, increasing the positive image of such renewable energy canopies.
Minimizing Foundations Work
The SunParkTM Carports steel structures can be made to accommodate any parking area shape and space. In order to minimize costs of foundations, our clients can choose between 2 (18') and 3 (27') parking spaces between columns. Spanning 3 parking spaces between each steel columns allows to significantly reduce the project cost as it reduces the overall steel structure cost, while removing 1/3 of the foundations and all the costs associated to putting the foundations in place.
For multi-level concrete parking structures, our engineering team will fit the carport steel columns over existing concrete columns, to match the steel columns span. This ends up in a site optimized solar carport solution offering great aesthetics.
Water Management
Opsun's innovative aluminum rail PV structure can accommodate water management options to allow water to flow to the edges of the system, avoiding most water dripping over the cars and customers, and limiting the formation of icicles during winter time. Gutter system can complement the water management system. The water-management option also includes wire management possibilities, allowing to hide all cables and J-boxes, thus leading a more visually pleasing design.
Guaranteed reliability over decades
All Opsun's carport structures offer premium rust resistance through a post-drilling galvanization process that completely seals the steel surface. The ASTM-123 galvanization process used allows the structure to be rust free for more than 20 years guaranteed, and gives the steel structure a design lifetime of more than 50 years. Our engineers can design structures for hurricane or seismic regions, and we have deployed the solution successfully in locations with extreme Canadian snow loads, without issues. High-quality metal paint, or powder-coating can be added as a finishing touch for a flawless visual.
Rust resistant 6000-series aluminum rails and clamps offer excellent solidity, while being light and easy to install.
Deliver your solar carport projects faster and at a lower cost
Opsun carport systems have been engineered keeping the installation process in mind. By minimizing the number of connections to the system and allowing for flexibility in the alignment of the panel racking system on top of the steel structure, Opsun carport solutions allow for installation times about 30% faster than other carport solutions, leading to important project savings and cost reduction.
Faster project delivery to the owner as well as cost reduction of the system will make your solar carport projects with Opsun more attractive to customers.
Quality, aesthetics, higher energy yields and price competitiveness make the Opsun carport systems the product of choice. Call us today to learn how we can transform your parking space into a profitable, visually pleasing bifacial solar PV system.