ADVANTAGES OF BIFACIAL PV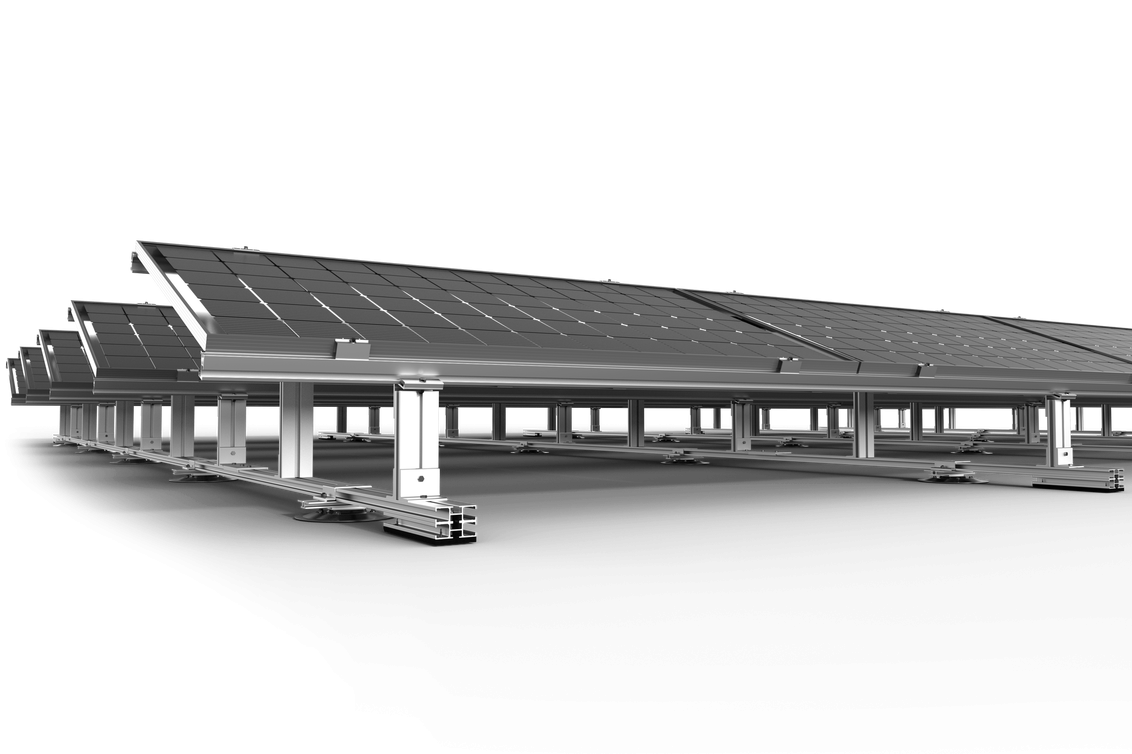 Bifacial solar PV panels are relatively new to the photovoltaic landscape, and they can generate 5 to 25% energy boost from the backside. How do you achieve maximum gains from the bifacial solar panels?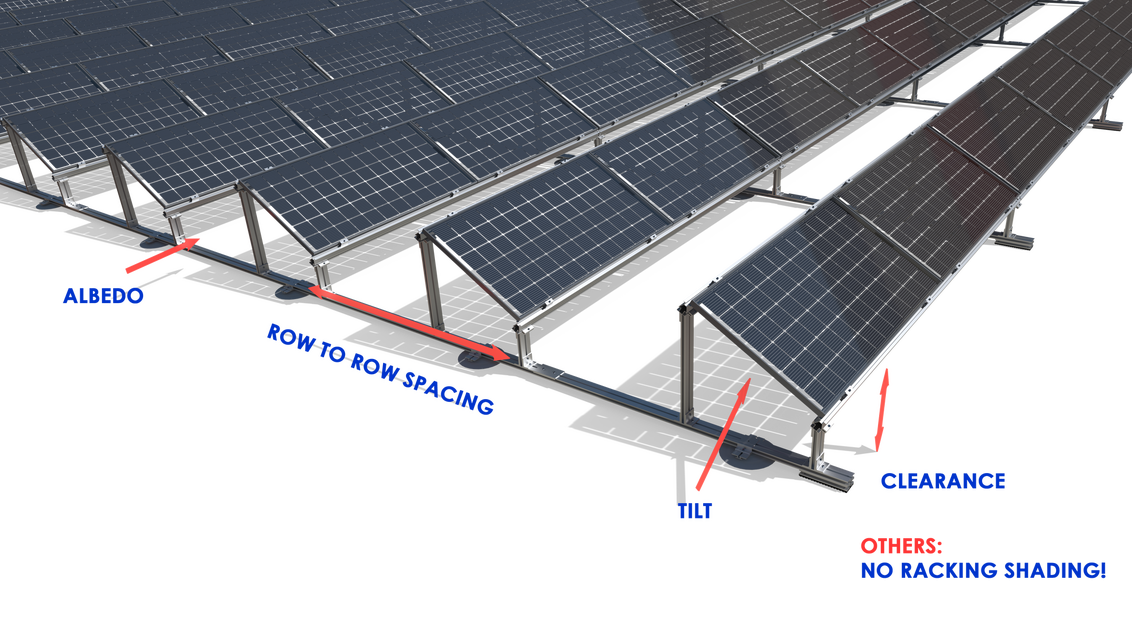 What is different with Bifacial Solar PV?
Each time a project is on a reflective (white or light gray) roof, bifacial solar PVs should be studied, as they are usually more profitable than standard solar panels on the same roof. On ground-mounts and carports, bifacial solar PVs allow for an increased output for the same structure and foundation cost. A bifacial solar panel project requires a different approach than a standard (monofacial) panel project, and our team of expert is there to guide you through this process. To benefit as much as possible from bifacial solar PVs, we must adapt the project's perspective toward one of the two options below:
Use Case 1 – Produce more electricity with the same quantity of panels
Opsun can receive any standard monofacial layout, and recreate the same layout with our bifacial PV racking, at the same tilt angle (above 10 deg. tilt), and benefit from the existing (or new) reflective roof to produce more electricity.
To increase the yield, we will usually increase the solar panels height from roof (clearance), and use the reflective (white TPO, EPDM, "cool roof") roof to boost reflectivity on the backside of the solar panels.
With this approach, the total project cost increase required to utilize bifacial solar PV panels and racking will be entirely offset by additional revenues (from higher yield), and return on investment will be increased. In many cases, increasing return on investment (IRR) over 10% is achievable.
Use Case 2 – Produce the same amount of electricity but with a smaller budget
Opsun a target for kWh production based on monofacial solar panels (annual electricity output), our team of expert can craft for you a solution producing that same amount of kWh, but with fewer bifacial solar panels than would have been required with monofacial solar panels.
We will usually increase the height (clearance) of the PVs with the roof or ground, and sometimes we will increase tilt angle and interrow distance.
When optimized, each bifacial PV solar panel will generate more energy than a standard monofacial solar panels, so we can obtain the same output as standard PVs, with up to 10 to 25% fewer bifacial PV solar panels. This will often lead to a lower project cost.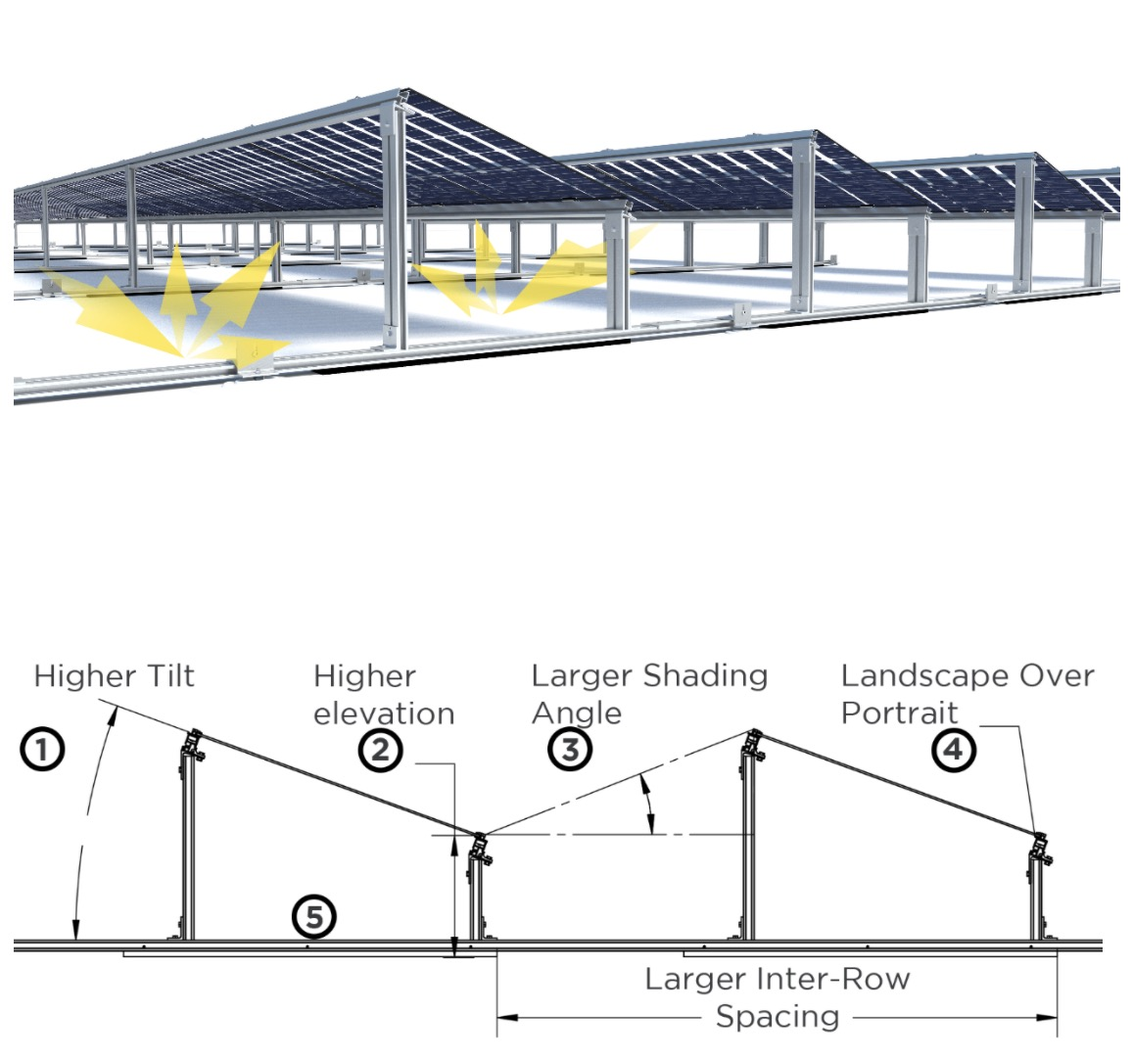 Optimizing a Bifacial Solar PV Project Design
Once a Use Case (see above) has been chosen, Opsun will help you optimize the project, following your requirements. To maximize the amount of electricity a bifacial PV project generates, the following point must be carefully studied:
Avoid any shading from the back of the solar panels (from wind deflectors, for instance), such as any rails passing under the backside of the solar panels (no obstructions under the solar panels with Opsun Bifacial PV Racking);
(1) Solar panels must be tilted as high as possible (from 10 deg. up to 30 deg possible with Opsun Bifacial PV Racking on rooftop, no limit on ground mounts);
(2) Height (clearance) between the PVs and the roof or ground must be increased as much as possible (up to 24" possible with Opsun Bifacial PV Racking on rooftop, no limit on ground mounts).
(3) Increase interrow spacing (any spacing possible with Opsun Bifacial PV Racking);
(4) Orientation must be landscape, to avoid rails under the PVs (Opsun Bifacial PV racking can do both landscape and portrait, but only landscape is recommended for bifacial).
(5) Minimize ballast under the PVs (some anchors can be added where a lot of ballast blocks are needed. Both ballast and anchors, or hybrid of both, are possible with Opsun Bifacial PV Racking).
Optimize to find the perfect balance between all the above elements to fit a maximum of PVs, and generate a maximum of electricity. Opsun's bifacial PV racking is perfectly optimized for bifacial, with zero permanent shading on the backside, and possibilities to increase tilt up to 30 deg, height up to 24" and row-to-row spacing up to 88".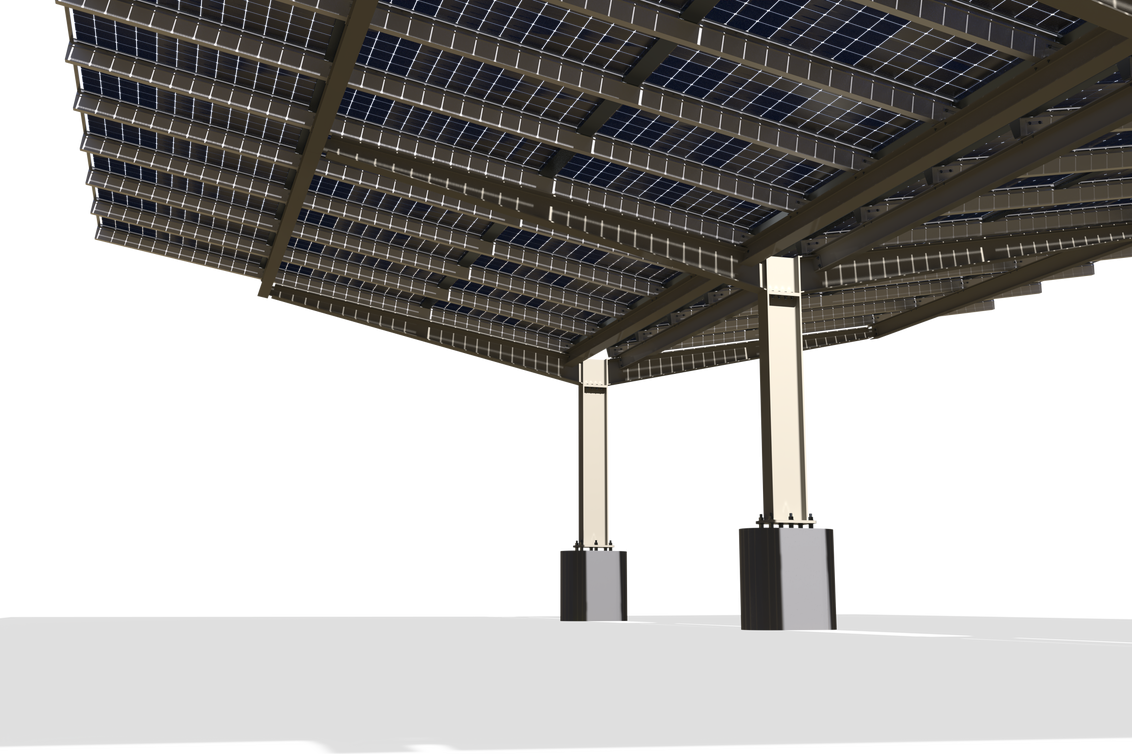 Get expert support to sell the project to
your client
Opsun's team of expert can support you during all phases of a bifacial solar project. Namely, Opsun can support you by helping with discounted cashflow models (to understand financial advantages of bifacial PV, versus standard monofacial PVs). We can help you get the most out of bifacial PVs by supporting your team on all aspects of a Bifacial PV project, such as:
Claiming a part of the roof value under the ITC (rooftop only);
Understanding the lower snow losses with bifacial PVs;
Choosing the right AC:DC ratio;
Module Orientation (True South Vs Building South);
How to increase albedo of roof;
Anchoring Vs ballasting (anchors can help reduce shadows on the roof);
How to avoid hot spots caused by rails behind bifacial PVs;
Architectural integration to existing or new buildings;
Canopies over mech wells, or pergolas;
How to optimize East-West oriented tilted roofs;
And much more!
OPSUN Total Engineeringtm Support
Opsun specilizes in solar PV racking engineering for any type of solar project, discover below our unique process to assure the best quality racking and engineering is supplied for all your solar PV, and bifacial PV projects.