Key specifications
Material
100% aluminum structure and components, stainless steel bolts & nuts.
Max Snow Loads
Can be designed for any snow loads (up to over 100 PSF)
Max Wind Loads
Can be designed for any wind loads (up to 180MPH) and high-rise buildings
Tilt Angle
Flat (Typical), 5-90 deg. As per manufacturer's recommendations
Inverter Orientation
As per manufacturer's recommendations
Inverter
Most standard string inverters
Roof Type Compatibility
Any roof type (Asphalt, corrugated metal (barn), standing seams, all other custom roof)
Ballast or anchored?
Both. Can be 100% ballasted or 100% direct attachment (lag bolts, hanger bolt, standing seam clamps, corrugated metal roof SMC Clamp)
Dead Loads on roof
5-15 PSF
Pressure on roof
Customizable, options at 100 PSF or less max pressure under the rubber pads available
Inverter height from roof
Customizable, starts at 4 inches, as per manufacturer's recommendation
Grounding
Grounding lugs conforming to UL 2703 available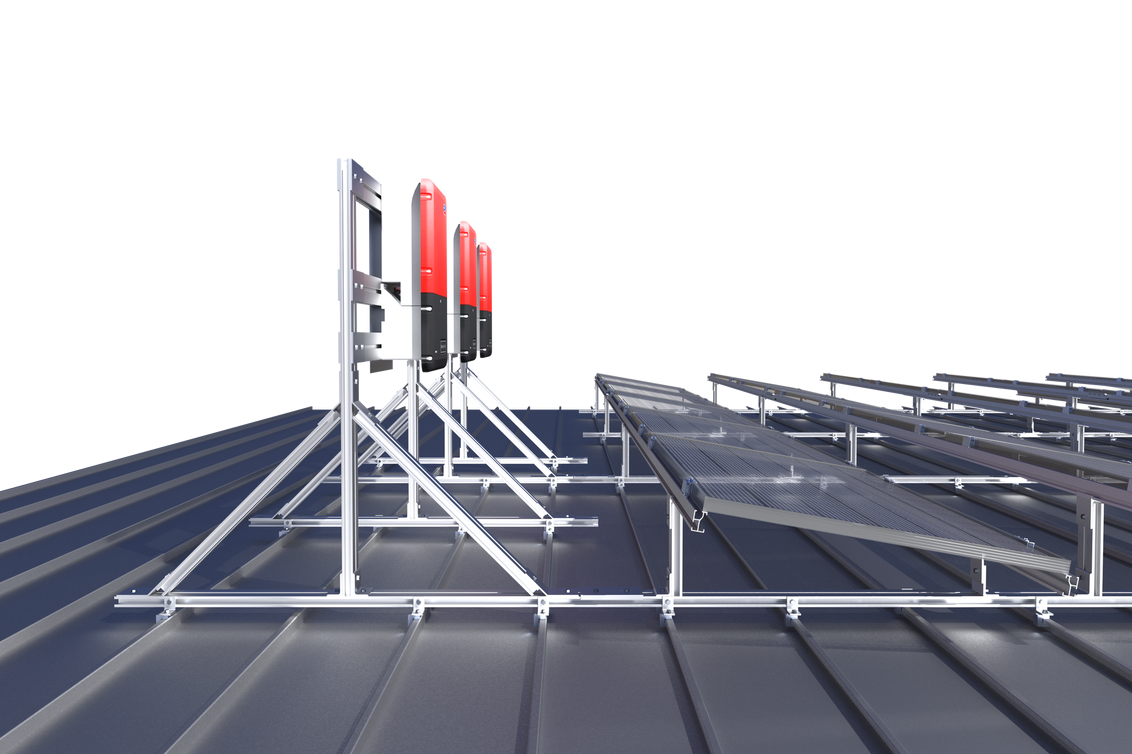 Ultra Flexible
Our designers and engineers can create an inverter rack for your project, for any commercial string inverter types. Typical designs can be flush (0 deg. tilt), or tilted at 5 to 90 deg. Any common roof type. Any wind loads, any building height, ballasted or anchored. We will create a rack that matches your needs.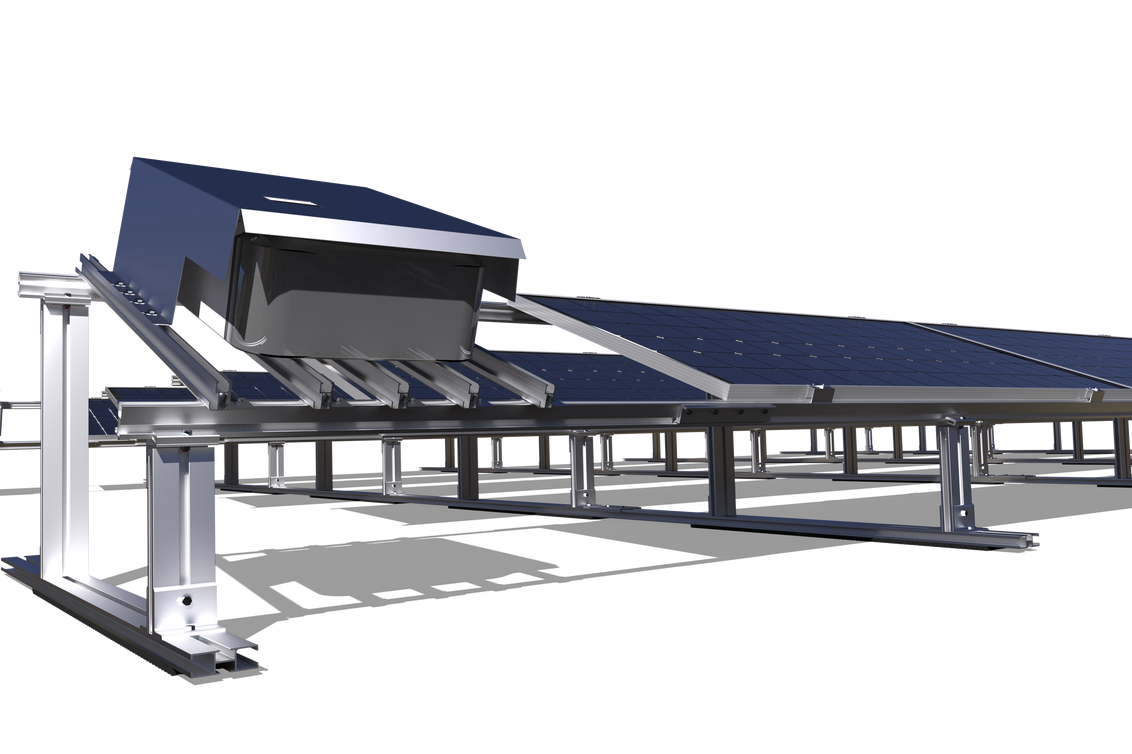 Easy to assemble, lots of adjustments
Our inverter racks are similar to our roof racking systems, and use the same simple hardware with one standard bolt type. Racks can be preassembled by Opsun prior to delivery.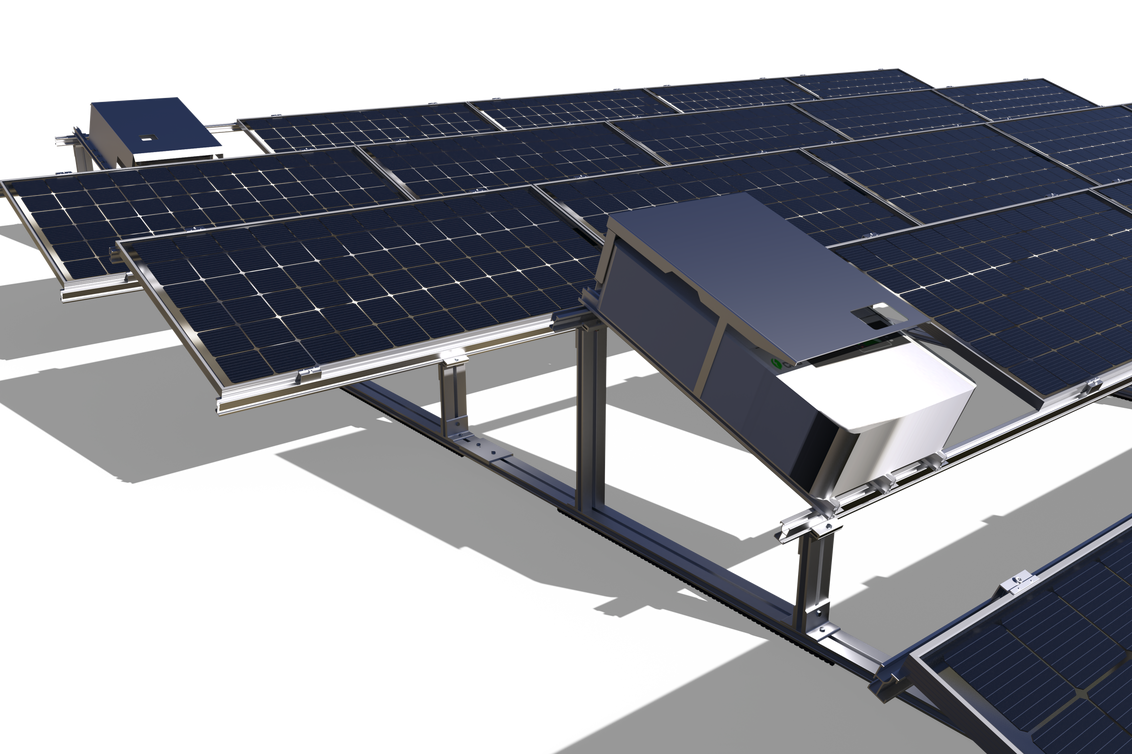 Complete turn-key engineering services
Our engineers will review the building's roof plans and create a custom inverter rack that matches the projects requirement. We provide detailed, project-specific plans that details installation steps. We can provide a P. Eng. Stamp for all U.S. states and Canadian Provinces.
Advantages
Can be mounted on Opsun Racking System
Our designers can add the inverters directly on the Opsun PV racking rails, for reduced project costs, and compliance with module-level disconnect, in most states.
Sunshade Options
Aluminum cover (sun shade) can be added as an option to prevent UV degradation of the inverters.
Full Aluminum Design
6000 series aluminum and 304 stainless steel bolts and nuts guarantee maximum durability of the structure for decades.
Fully Adjustable System On-Site
All components can be slid in the rails' channels, to adjust for roof unevenness.
Highest Standard for Engineering & Support
Our engineers use only the safest methods of calculation, to assure maximum solidity and durability of the structures. We have proprietary, recent wind tunnel tests with Western University, and we design using the latest Building Codes (ASCE-7-16, NBCC 2016, IBC 2018), as well as SEAOC PV2 notions of array size versus roof size to account for extraordinary vortices. Minimal deflection allowed on rails, and finite element analysis done with high-end 3D engineering software. Each zone ballast & anchors calculated individually. We find solutions to each unique challenge, and we react quickly if unforeseen events happen during construction (such as unmarked drains, roof equipments obstruction and last minute changes).
Project-Specific Building Permit Plans & P.Eng stamp with each project
Documents & Specifications
OPSUN Total Engineeringtm Support
Opsun specilizes in solar PV racking engineering for any type of solar project, discover below our unique process to assure the best quality racking and engineering is supplied for all your solar PV, and bifacial PV projects.