Key specifications
Material
100% aluminum structure and components, stainless steel bolts & nuts.
Max Snow Loads
Can be designed for any snow loads (up to over 100 PSF)
Max Wind Loads
Can be designed for any wind loads (up to 180MPH)
Tilt Angle
10 to 30 (5 deg. increments)
PV Panel Orientation
Landscape
Module
Any framed PV, any frameless PV
Tilted Roof Attachment
100% direct attachment (lag bolts, hanger bolt, standing seam clamps, corrugated metal roof SMC Clamp)
Unique Patented Solution
Corrugated Metal Roof (Barn Roofs) can use Opsun's unique patented SMC clamp (CA 2751963) that reuses the existing screw hole in the metal roof, and attaches in the strapping, for easier installation.
Dead Loads on roof
2-3 PSF
PV Panel height from roof
Customizable, starts at 8 inches
Grounding
Self-bonding PV clamps, UL 2703 listed
Typical Bifacial Gains Observed
10-25% (N-Type, on white metal roof. Must be optimized per project, not a guarantee.)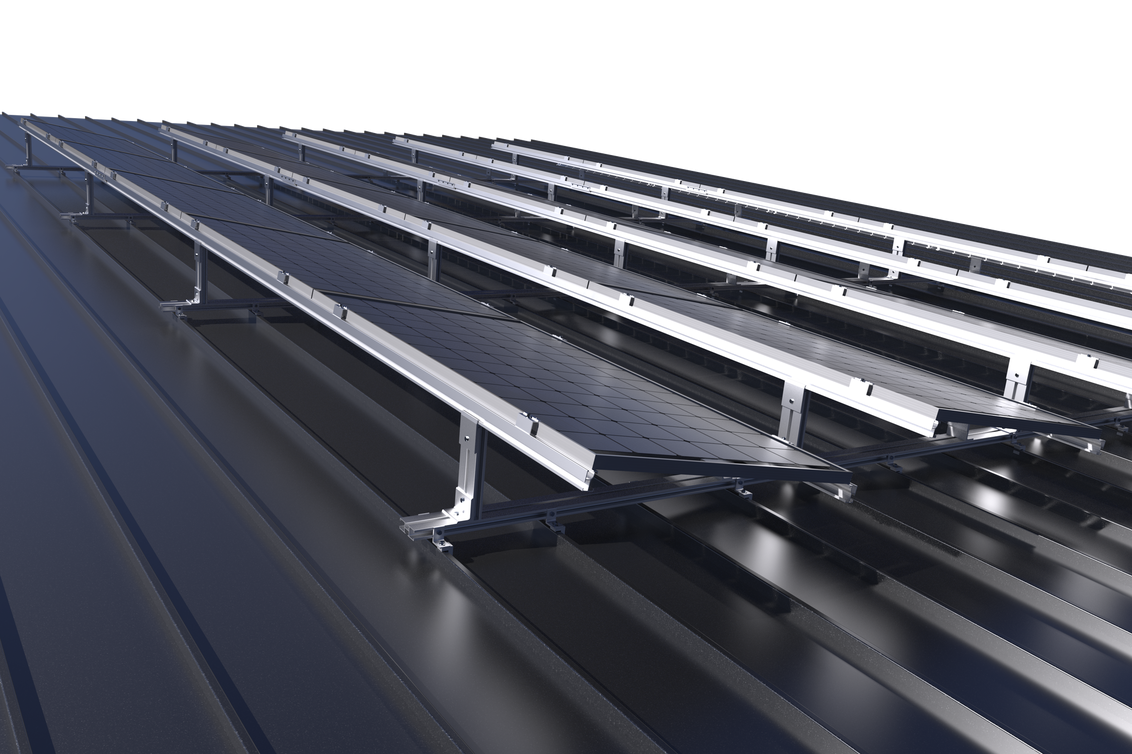 Increase yield with a racking optimized for bifacial PVs
Instead of placing panels flush on tilted roof, Opsun SunRail BifacialTM allows to place the panels at an angle on the tilted roof, allowing for better natural cleaning and increasing significantly yield by adding bifacial gains. Open design allows for easy roof access for maintenance, and lower PV operating temperatures.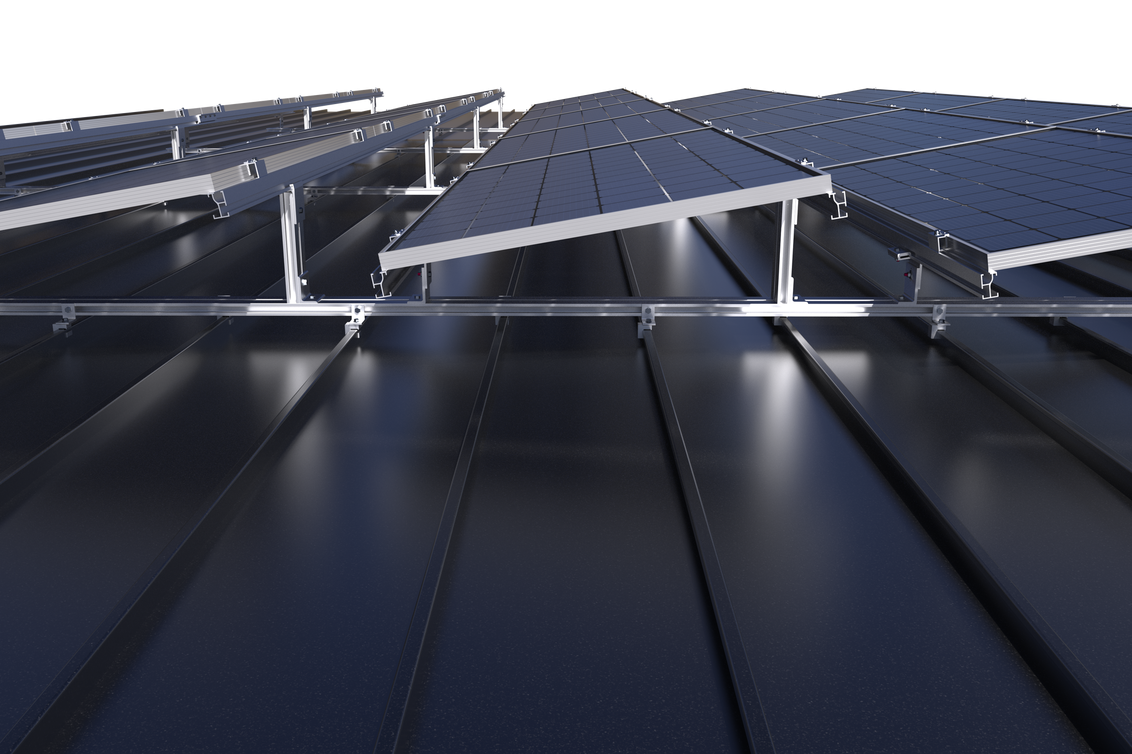 Designed to boost performance of Bifacial PVs
No wind deflector, high tilt and high elevation possible, extra long interrow distance possible. All rails on the edge of the PVs, not under them. The Opsun SunRail Bifacial™ can be adapted to maximize the amount of light the backside of the panels receive. Optimal for fully anchored system, for maximum irradiation of the backside of bifacial PVs.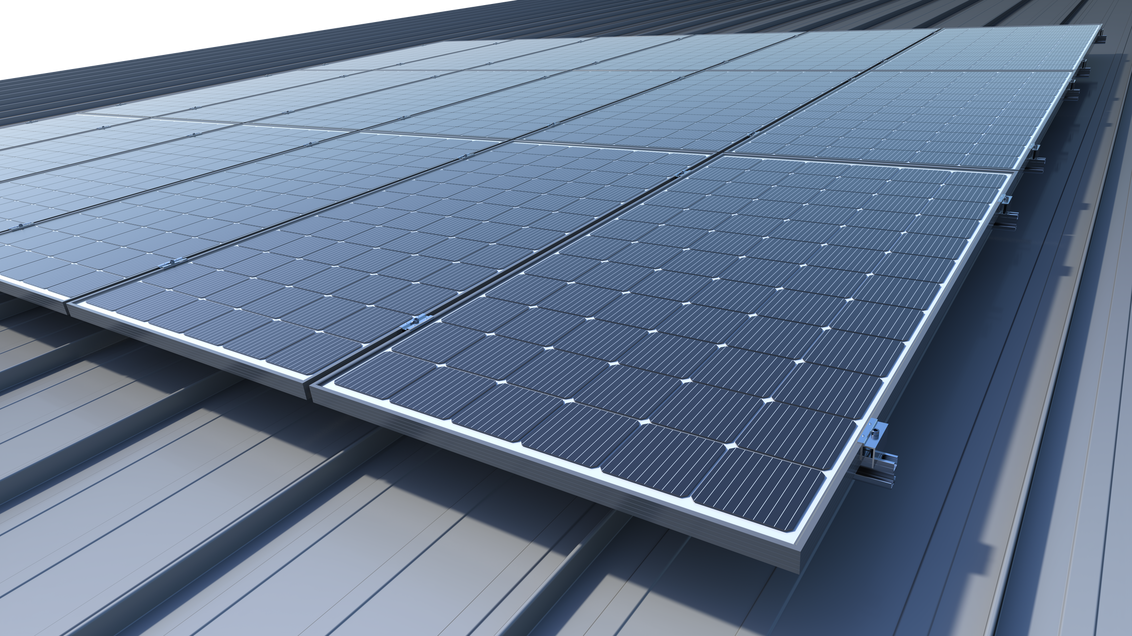 Complete turn-key engineering services
Our experts will support your project, offer expert advices on how to get maximum performance from bifacial PVs, help optimize layout, tilt angle and panels elevation from roof. We can find solutions to most construction challenges, and design custom solution for almost any building, of any shape and height.
Advantages
Any type of tilted roof
Our engineers can find solutions to any complex engineering challenges, building structures with one, two or three layers of rails, as needed, to allow attaching to the building's structure.
Better Panel Protection
Strong rails supporting PVs on their full length help prevent torsion and movement that leads to accelerated degradation of PV panels
Full Aluminum Design
Rail-based design with 6000 series aluminum and 304 stainless steel bolts and nuts guarantee maximum durability of the structure for decades.
UL 2703
ETL listed (#5013658) to UL 2703, for all configurations except 5 deg. Tilt.
Fully Adjustable System On-Site
All components can be slid in the rails' channels, to adjust for roof unevenness. System will follow roof's drains, crikets and tapered insulation with ease.
Typical Overall Racking Installation Speed (including PV panels' DC connection)
4000 + W/ man-hour (preassembled), 1700-2000 W/man-hour (disassembled).
Highest Standard for Engineering & Support
Our engineers use only the safest methods of calculation, to assure maximum solidity and durability of the structures. We have proprietary, recent wind tunnel tests with Western University, and we design using the latest Building Codes (ASCE-7-16, NBCC 2016, IBC 2018), as well as SEAOC PV2 notions of array size versus roof size to account for extraordinary vortices. Minimal deflection allowed on rails, and finite element analysis done with high-end 3D engineering software. Each zone ballast & anchors calculated individually. We find solutions to each unique challenge, and we react quickly if unforeseen events happen during construction (such as unmarked drains, roof equipments obstruction and last minute changes).
Project-Specific Building Permit Plans & P.Eng stamp with each project
Custom, project-specific building permit plans, stamped by a local P. Eng., are provided for each job, describing step-by-step where each component goes, on the exact project site, with markups, details and explanations custom to each project's specific difficulties.
Documents & Specifications
OPSUN Total Engineeringtm Support
Opsun specilizes in solar PV racking engineering for any type of solar project, discover below our unique process to assure the best quality racking and engineering is supplied for all your solar PV, and bifacial PV projects.